Through visiting St Basil's Miranda most days, George Cotis was able to witness first-hand the standard of care that his mother Eva received.
Having peace of mind that our loved ones are valued, respected and cared for in the final years of their lives is incredibly important. While it won't lessen the grief of their passing, it can certainly give us a sense of comfort that they received the best possible care, in a welcoming, supportive environment that tended to their individual needs and ensured quality of life.
Such was the experience of George Cotis, son of the late Eva Papacotis, who was a resident of St Basil's, Miranda for nearly a decade, progressing from hostel/low care to high care.
"Like most people who enter care, Mum was reluctant but accepting. She understood from the outset that she was in a good place, but she felt it would never be 'home'," reflects George. Despite his mother's initial hesitations, St Basil's Miranda in fact became a second 'home' for her, in that she became part of a caring community, made enduring friends and was able to see her family regularly.
"I always considered mum's life there was better than the experience of people in other places," says George. "I visited almost every day and came to know the staff and many of the residents and my closeness allowed me to see the things that mattered. It helped to give me an understanding of the challenges in providing good quality care and an understanding of the work of, and the challenges, for the carers."
Given these insights, George notes how he couldn't help but make comparisons between the experience of other aged care residents with that of the Miranda residents during the Royal Commission into aged care.
"I always felt that mum was safe, respected and cared for and that she was in as good a place as she could have been," he reflects.
George notes that the dedication and integrity that he witnessed included everyone from management and the office staff, right through to the caring staff, activities people and physios. His observations reflect St Basil's "live well" philosophy, which encourages employees to lead with their hearts in the care they provide. The result is aged care that is safe, organised and clinically-based, as well as being very much 'human' and person-centred.
For George, his satisfaction with St Basil's extends beyond his mother's experience to his personal experience there. "Her experience at St Basil's was, in part, also my experience at that place," he says.
He reflects on how he was made to feel welcome and was able to participate in many ways, and how despite the inevitable challenges and frustrations involved in managing the declining health of his mother, he and his wife Sue always felt they were among friends. "That is a warm feeling," he reflects.
Perhaps most hearteningly, George believes that he and his wife have not been separated from St Basil's by the loss of his mum; instead the emotional connection and the friendships formed there will endure.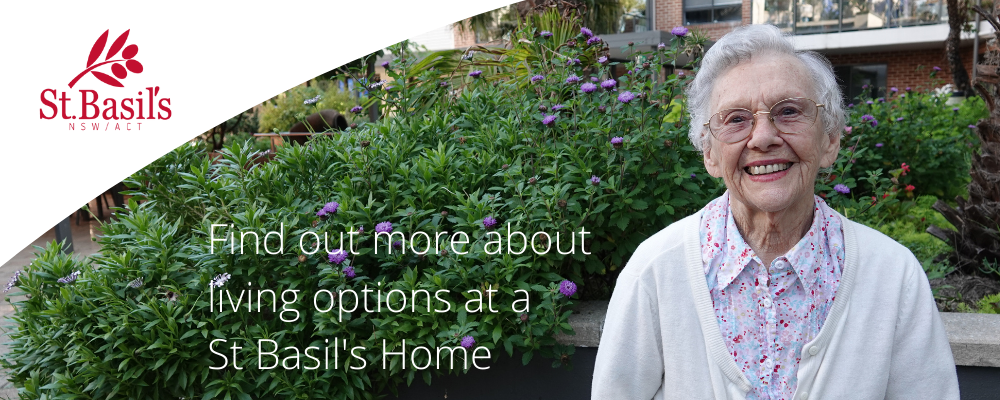 Enquire about St Basils' choices in care by calling us on 1300 367 551, or to book a tour at one of our Homes now
– Words by Bonnie Bayley