Maria Henien is the St Basil's Community Services Operations Manager, and has been since 2015. Maria recently returned from parental leave, 8 months after the birth of her beautiful son Manuel, her third child.
Maria has been a great part of the St Basil's workforce for the last 15 years and remains passionate about her work.
Always with an upbeat attitude, positive outlook and with a smile on her face, Maria proudly leads her team of client support staff, administrators, and Day Centre team leaders.
Maria's extensive experience includes social work, business management, direct care support and thrives when working together as a family and community.
"I believe that an important part of my role and that of my team is to be continuously consulting with clients to get their feedback so we can keep improving on the services that we provide whether it be in their home or at our Day Centres.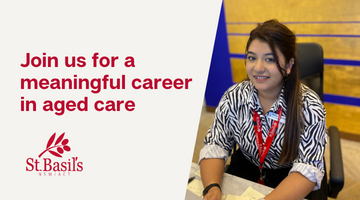 "Great customer service is very important which is why the team and I are always looking for ways to improve on how clients experience our services. Seeing clients happy, healthy and their needs met is paramount," explains Maria.
"I encourage clients or their families to help us recognise the great work of our staff and to highlight the positive impact they have on the lives of clients and their families. This can be done through the Employee Recognition Program."
Maria adds, "Our communications channels are open and work in both directions; We share information with you but we also want information to come back to us from clients and their families."
Maria is proud of her Greek background and finds that it helps her to connect effectively with many clients who are Greek speaking.
"We are pleased to be able to support older adults from a variety of culturally and linguistically diverse backgrounds," adds Maria.
Receiving the St Basil's Employee Values Award for Contribution in 2021, Maria continues to be known for upholding St Basils' values, as well as the mission of 'Delivering quality services that support the individual needs of ageing Australians including Greek Australians'.