St Basil's Kogarah resident, Styllianos George Pellegratis, has life achievements spanning both academia and sports.
He's described by staff as a reserved personality who enjoys spending his time in quiet pursuits like reading and watching TV, however if you were to sit down for a cup of tea with Styllianos, you'd uncover a driven character with an impressive history of high-achieving, across both academia and sports. Born in Port Said, Egypt, to Greek parents, Styllianos, aged 84, graduated with a Bachelor of Engineering degree in Egypt and was the top of his class for four consecutive years. As if one highly technical degree wasn't enough, the budding scholar then moved to Greece and studied a Bachelor of Physics and Mathematics.
Styllianos's father was a marine pilot, which must have influenced his career trajectory, because after emigrating to Australia at the age of 26, he took on the position of mechanical engineer for the Australian Navy. "I was in charge of the Hedemora, the Swedish-designed submarine for the Australian navy, and oversaw 24 people," he proudly recounts. He worked as a mechanical engineer for a solid 35 years, retiring in 1999.
He clearly had academia covered, however Styllianos is also something of an all-rounder, having excelled on the sports field in his youth, too. "I was good at all athletic sports, and got good results in sports such as gymnastics, rowing and soccer," he reflects. Indeed, he played competitively on a national level in many sports including rowing, basketball, soccer, athletics and received medals too. One of his proudest moments came in 1956, when the then prime minister of Egypt, Gamal Abdel Nasser, awarded him best sportsman of the year. Later, in 1996, he scored another accolade, receiving a best football player award in Egypt.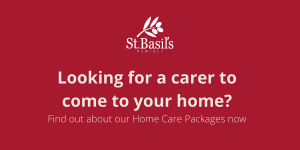 Despite his busy life, Styllianos still found time to travel for leisure, traversing the globe three times as a tourist, visiting North and South America, Europe, Africa and Asia. "I was especially impressed by Mexico and Panama," he reflects.
These days, as well as reading and relaxing, Styllianos enjoys attending church services at St Basil's – unsurprising given he was secretary of the Blacktown Greek Orthodox Church committee for 15 years. "We ensure that his spiritual and religious needs are met," says St Basils Kogarah Administration Officer, Majida Choudhury.
According to St Basil's staff, Styllianos enjoys a good chat, particularly on the topics of politics and education. "I visit him every day, as he's a sociable person who enjoys talking to others," says Majida.
Tellingly, when asked to reflect on what life achievements he's most proud of, he replies emphatically in the present tense – "I am always proud of what I'm achieving."
As the father of three daughters and six grandchildren, Styllianos has the following advice for them: "Strive to have a happy personality and use your common sense and logic." Sage advice that we could all take on board.
[Words by Bonnie Bayley]