Whether your loved one is living at home or in their new home at St Basil's there are a few simple ways to encourage them to maintain physical mobility for independence.
Ryan Szeto, the lead Physiotherapist at our Miranda home has a three simple activities to help.
"Staying independent and mobile is always a joint goal that physiotherapists have with residents, and it is important for people to work with their physiotherapist to determine what is the safest way to maintain their mobility in their environment," explains Ryan Szeto, Accredited Physiotherapist.
Top 3 activities that ageing Australians should do daily to maintain their mobility and independence*.
Get involved in exercises classes, engaging with others in social activities are a great place to start because keeping independent involves keeping yourself physically and mentally fit.
Take note of when you get out of our chair. Each time you get up, try to sit down again 3 times before walking away from your chair. Standing up and sitting down again will help maintain your lower leg strength. Taking regular walks if you are able to, will also help maintain the movement in your hips, knees and ankles.
Keep moving even if you are unable to walk around. Exercises like circulating your arms in a swimming motion, and even using wrist weights while sitting or lying in bed will help you to maintain your joint movement, circulation and muscle tone.
Watch the video now Exercise Programs for Seniors
To learn more about St Basil's Homes exercise program call 02 9784 3200 or visit Gentle Exercise Classes
*Speak to your GP or local physiotherapist for the most appropriate exercises for you ensuring your safely.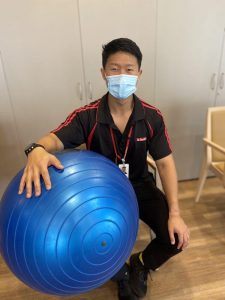 About Ryan Szeto and the St Basil's Homes physiotherapy team
Ryan Szeto is one of the many qualified physiotherapists at St Basil's Homes NSW/ACT.
His passion is to care for and improve people's health literacy so they can have a better quality of life, especially those who have reached retirement age.
He loves the personal aspect of working at St Basil's Homes and being able to bring joy and instil confidence to those he cares for through his expertise.
On a daily basis, the St Basil's Homes' physiotherapy team motivate and educate residents to have a better quality of life, and work alongside residents to ensure they are happy and healthy.
On a weekly basis you will find the physiotherapists hosting group exercise classes, events related to physical activities, teaching individual exercises, and providing pain management and education.