The winner of the St Basil's NSW/ACT Consumer Choice Employee of the Year (Lakemba) award says that good communication with residents and their families, as well as being part of a strong team, is what helps her shine in her role.
Understanding residents' care needs, building good rapport and trust and involving families in the delivery of care are some of the things that Erla Salinas, one of the Care Managers at St Basil's Lakemba, feels most passionate about in her role. It's this dedication and commitment to honouring the needs of residents that has seen Erla win the Consumer Choice Employee of the Year (Lakemba) award, as part of the inaugural St Basil's NSW/ACT Awards Program 2021.
The Awards Program, which spans three categories with 11 different awards, aims to recognise and celebrate excellence in St Basil's people, and honours the life-changing work being done at St Basil's. In the case of Erla, her award is the result of being nominated by residents, which is a true credit to the impression she has made on the residents and family members of St Basil's Lakemba.
"To be the Consumer Choice Employee of the Year is an absolute honour," says Erla. "I am very grateful that my work has been acknowledged and recognised, as I know all of us at St Basil's deserved to win this important award."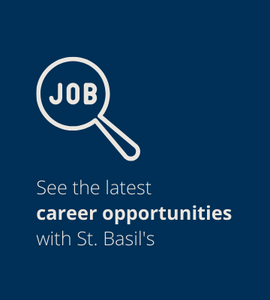 Asked about what she finds most rewarding about her role in aged care, Erla, who is a registered nurse, says that it is being able to assist St Basil's residents in the delivery of their care needs.
"Most importantly, I really enjoy the regular interactions I have with our residents and their representatives," she adds. "We have formed an incomparable, special bond that I will treasure forever."
For Erla, coming into work at St Basil's Lakemba is something she looks forward to, due to the cohesive team she is a part of. "I'm proud to say that we have the best team and we always help each other when needed," she says.
"With the unending support of our General Manager and our hard-working Care Staff and Team Leaders in Lourantos Village (where I mostly work), together we always go above and beyond to ensure that our residents' routines are running smoothly."
Erla cites her consistent efforts to deliver high-quality care as a key way that she positively impacts the lives of not just residents, but the broader St Basil's community, including families and visitors.
"I believe that by understanding and trying to meet residents' care needs as much as possible, building good rapport and trust, and by involving both residents and families in the whole process of our delivery of care, and actively communicating any changes to care requirements, I'm able to give them peace of mind that they, or their loved ones, are well taken care of," she reflects.
To find out more about a jobs and a career with St Basil's NSW/ACT visit
https://stbasils.org.au/careers/aged-care-job/
– Words by Bonnie Bayley