Q&A with Andrew Evgenidis, Maintenance Officer, St Basil's Randwick
How long have you been working with St Basil's and why did you choose to join the organisation/aged care industry?
"I started working in aged care with St Basil's in November 2021 at the height of the COVID pandemic wanting a change in career a different direction from working as a tradie all my career.
I saw the job advertisement and thought that my skills would help to make a difference to the residents and the home.
Also being of Greek descent, I knew that it would help in assisting Greek-speaking residents with their maintenance requests."
What are the key achievements specific to your role that keep you motivated at work?
"The motivation and chance to move up in roles was a goal of mine from when I first started at St Basil's Randwick.
I started as a Maintenance Officer and only seven months later with my strong work ethic hard and skills (amongst getting COVID twice) I was promoted to the role of Maintenance Supervisor.
Till this day I continue to maintain this same work ethos. Planning my day, the night before helps me prioritise the urgent requests.
I set realistic expectations for my day-to-day operations in my department and also make time help people in other departments like the team of Physiotherapists when we must prepare a room for a new resident, we work together to get the task done and make sure that the incoming resident is made welcome, and the room is ready to suit their needs."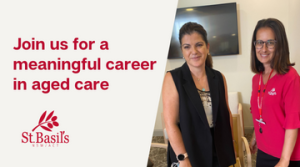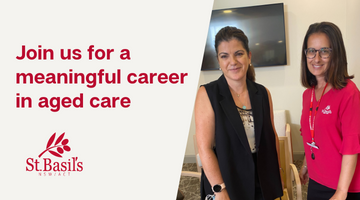 What are the main reasons for you to be working here?
"I believe if your workday has variety and your goals are achieved – you love what you do.
From day-to-day at the Randwick facility varies whereby the kitchen equipment may need repairs and the pool heater needing adjusting to a simple task of making one of my favourite residents' 4-wheel walker working smoothly again, no day is the same. The challenges I confront day in day out makes me want to come back day in day out."
What would you say to others who might be considering joining the Maintenance team at St Basil's?
"​I would say go for it! There is opportunity to advance you can work at various sites of St Basil's, there are courses you will be put through so you can better yourself. There is variety in the work – no day is the same. We are a great team in the maintenance and property department and the best is yet to come."
Is there anything else that you'd like to say or share with us?
"Always think big!! work hard, and be there for your work colleagues, residents and managers, put your hand up, volunteer and love what you do."