In July 2019, Kogarah Community Services (KCS) was successfully awarded the MUSTER grant through the Australian Government Department of Social Services and the Honourable David Coleman MP to coordinate intergenerational programs within the local community.
In response, the Executive Officer of KCS, Shelley Ross, brought in Maria Anthony to implement a program which would 'bridge the gap' between the young and elderly, whilst also bringing joy into their lives.
'They lived in that moment':
Maria, who is a proud Pontian, speaks exclusively with The Greek Herald about these intergenerational programs and says they are not just about the youth 'singing and dancing' for the elderly but rather, it's about forming connections, learning about migration history and 'bringing a smile to people's faces.'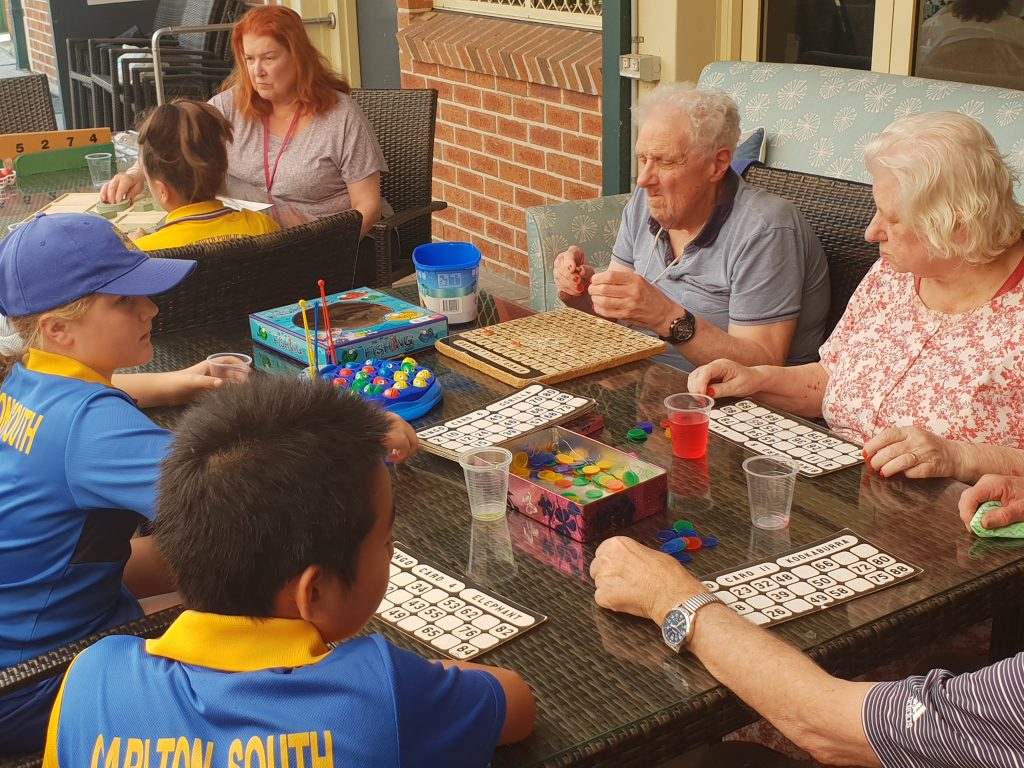 Take for example, a six-week program run by KCS at local schools where seniors go into classrooms and get interviewed by students about their life in Australia. These students are then asked to give a presentation on the person they interviewed.
"It's fitting into the school curriculum as well and at the same time, connecting and making friends. When we finished [the program], the young boys and girls, who were between the ages of 15 and 16, were devastated we weren't going to come back," Maria says.
Elsewhere, elderly residents from aged care homes such as St Basils Kogarah and The Laurels also get to mingle, dance and sing with young students at cultural festivals such as the Festival of Ages.
"When I asked the Director Manager of The Laurels, 'how do you think [the festival] impacted your residents?' She said, 'they might not remember what they just did, but they actually lived in the moment'," Maria explains.
"So they might have dementia, they might not remember what they did five minutes ago, but they're actually living the moment and that's something that really, really stood out to me and just shows the importance of these programs."
READ MORE: Adelaide High Students join seniors to learn Greek and keep immigration stories alive.
Changing perspectives:
Although organising these intergenerational activities with nursing homes has become more difficult due to COVID-19 lockdowns, Maria hasn't given up.
In fact, for Christmas this year, Maria organised for residents at The Laurels and St Basils Kogarah to make Christmas cards for young students at Carlton Public School and Kogarah Public School. In return, students from those schools, as well as Georges River Council Ocean St Preschool, made Christmas cards and decorations which were distributed to four local aged care homes.
Of course, physical aged care home visits were off the agenda this festive season, but Maria hopes they will also be able to resume soon as she's seen the benefits of them first-hand.
"What we have witnessed with the intergenerational program is nursing homes have over two or three activities every day but you speak to any of the staff in the nursing home, and I've witnessed it myself, it doesn't matter how many activities they have. It's the same workers, it's just amongst them," Maria explains.
"But when we were going every week, there were men that took a few weeks to get out of the room and the staff would literally be in tears and hug me and say, 'Maria, this man never leaves his room'
"So the fact that when we walk in with the kids, we sing, we make noise, everyone is curious to see what's going on and then what they do is they follow us, they sit down and somehow they connect with a child. And then when we come the following week, that same resident will go straight away to that same child."
Maria says the benefits of this are immense and range from increased interest in the aged care sector amongst the younger generation, to a shift in perceptions between the elderly and youth.
"I think it's really important that our teenagers and our youth have respect for our seniors. You have a lot of seniors these days that think teenagers are spoiled… but then you have a lot of teenagers that think old people are just grumpy and don't care about us," she says.
"But we've witnessed that this intergenerational program has really, really changed the mindset of youth and of seniors. So the program is more than just kids going and singing. It's really about bridging the gap between the generations."
An important cause which we hope to see taken up by the Greek and broader community across Australia.
To find out more about the KCS intergenerational program or to register for an event, please contact Maria on 9553 6506 or visit www.kogarahcommunity.org.au.
Originally published by The Greek Herald https://greekherald.com.au/community/bridging-gap-maria-anthony-importance-intergenerational-programs