With Easter being the commemoration of the death and resurrection of Jesus Christ, and one of the most significant occasions on the religious calendar, the residents of St Basil's Lakemba received a heartfelt visit from members of the Charity Committee of the Pontian Society Sydney, Panagia Soumela who delivered thoughtfully crafted Easter gifts.
Prepared by their members in the days prior to their visit, over twenty members of the Panagia Soumela came together to bake hundreds of fresh koulourakia (Greek Easter biscuits) that formed part of the gifts delivered to residents.
With St Basils' Chief Financial Officer Tanuja Bissa leading the tour around the Lakemba home, each resident was presented with a gift to enjoy for Easter.
"Seeing residents happy and appreciative of their gift was heart-warming," explains Ms Bissa.
"Having Hellene Flame, Jessie Kilazoglou and several other members of the Pontian Society bring joy to the home on this special occasion is wonderful to see and testament to the work they do for the community."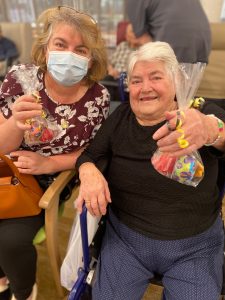 The visitors and staff spent much of the day roaming the aged care home to speak with residents and hand them their gifts.
Hellene Flame, leading member of the Charity Committee of the Pontian Society Sydney, Panagia Soumela, explains that since the inception of the Charity Committee arm of the organisation 12 months ago the committee has raised money for several of their chosen charities including fundraising to provide wheelchairs for children in hospital. They have also been successful in receiving local government grants that enable them to conduct their community work.
"I admire all of the staff at St Basil's for the critical work they do in caring for the residents here," ads Ms Flame.
"My colleagues and I would like to thank residents for welcoming us into their home in the lead up to Easter."
The Pontian Society Sydney, Panagia Soumela has made St Basil's Homes NSW/ACT one of their chosen charities to support by providing gifts and entertainment to residents on special occasions throughout the year such as Mother's Day, Father's Day, Easter and Christmas.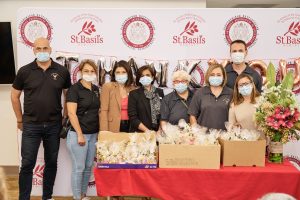 To support the Pontian Society Sydney join their group on the Facebook platform.
Learn more about St Basil's Homes or Book a Tour now